Tomatina From Almería
Buying this ticket you obtain a reservation for a trip to Buñol (Valencia) from Almería on a package trip. Tomatina from Almería!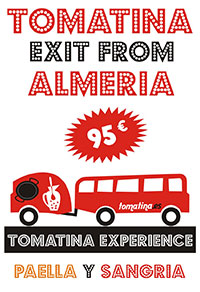 Tomatina from Almeria bus Schedule
The departure from Almeria will be on the 28th of August 2024 at 4:30 am. We will confirm the meeting point as soon as possible.
After this, the return trip will be on the same day from Buñol (Valencia) at 15:30 pm in the Buñol Bus Stop, by coach.
The schedules are approximate times and we will not go without confirming that all the Tomatina Travellers occupy their seat.
Tomatina begins at 12:00. It will be announced with the first bang. It lasts about an hour; the end is announced with a second one. Out of these moments, you cannot throw more tomatoes, so take the opportunity to throw as many tomatoes as you can in this frantic hour!
Tomatina Ticket Includes
Roundtrip
Access to La Tomatina Area
Tomatina T-shirt
Travel Insurance
Paella & Sangría (Optional)
There will be showers managed by the Buñol City Council. Very useful!
You can leave your bag whit your personal belongings on the bus. When the Tomatina is finished, after the shower, you can change your clothes.
Important
Please, bring a photocopy of your ID or passport with you to access the Tomatina.